As a gift to you for visiting our blog, we are providing you with a FREE pharmacy discount card that you can use at thousands of retail pharmacies throughout the United States.
Just click on the link below, print the card, and present it to the pharmacy staff to receive a discount on your prescription.
No activation or enrollment is required!!!
You may share this card with friends and family, it's a universal card for all who want to use it!
HINT:  If you don't have a printer, just write down the BIN, Rx PCN, Rx GRP, and ID exactly as shown on the card and hand the information to the pharmacy staff. Let them know that the information is linked to a discount card, and they should have no issue entering it into your pharmacy profile.
 FREE Pharmacy Discount Card (Click on the link!)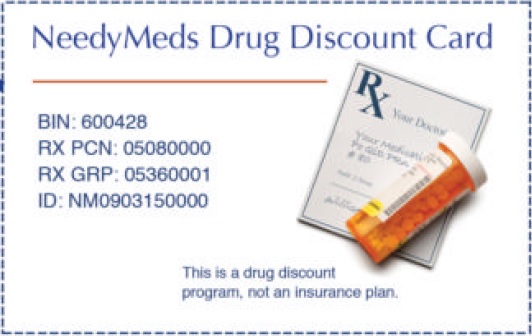 Ugh, the only hang-up to this card is that it's not valid for those who are enrolled in Medicaid, Medicare (including Part D plans) or other state or federal programs.
Disclosure:  Please note that if you decide to use the discount card above,  we will earn a small commission, but at no additional cost to you.  Please understand that we have experience with NeedyMeds and this discount card, and we recommend them both because they are  helpful and useful, not because of the small commissions we make if you decide to use the card.  Please do not use this card unless you feel  that it will help you achieve your goals.